Commonwealth Games 2022: The country's para powerlifter Sudheer made history almost silently while you were sleeping in the middle of the night on Thursday. In this event, the boy from Haryana brought the country its first Commonwealth Games medal.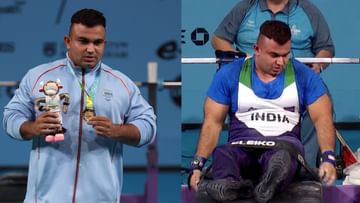 History of Sudhir
Image Credit source: Twitter
Birmingham: Surprise after surprise. The athletes of the country are surprising in the current Commonwealth Games. The latest addition to this list is Sudhir. Sudhir, a son of Haryana's Sonepat, won gold in Para-Powerlifting in a Games record on Thursday midnight. In the Commonwealth (Commonwealth Games 2022), Thursday ended with Sudhir's golden history. The country's weightlifting team has finished this year's Commonwealth Games with ten medals. Among them three gold medals. This time the gold medal also came in para powerlifting. Sudhir brought the historic first medal to the country in this event. The whole country is praising his success despite his physical handicap.
In Para Powerlifting, wins and losses are determined by points. There are three opportunities in total. Points are awarded based on weight lifting, body weight and technique. If the load is more than the body weight, then more points are available. Sudhir weighing 87.30 kg lifted 208 kg in his first attempt. In the second attempt, he lifted 212 kg. Along with this, he set a new record in the Games. However, he could not lift 217 kg in the third attempt. 27-year-old Sudhir won the gold from the top with 134.5 points.
Sudhir's success
2018 World Cup (Dubai): Silver Medal
2022 World Para Powerlifting Asia Oceania Open Championships: Bronze Medal
2018 Asian Para Games (Jakarta): Bronze medal
Six-time National Gold Medalist (2016-2022)
Para powerlifter i.e. success by overcoming physical problems. Son of a farmer family, Sudhir's struggle started from the age of 4. One day I got a fever. When he was taken to the doctor, it was found that Sudhir was suffering from polio. Since then the walking has stopped. Strong love for sports since childhood. So he held on to that love without letting the obstacles get to his head. Maybe in the urge to survive. Big-faced Sudhir had a penchant for weightlifting. He decided to focus on this. Sudhir's career in weightlifting started in 2013. In 2016, he won gold in the first national level competition. The opportunity to represent the country at the international level came in 2018. He won a bronze medal on his debut at the Jakarta Para Asian Games. Sudhir lost his father on that important day of his career. Even on the day of Anand, Sudhir was swept away in tears. Everything seemed to have stopped. He wiped his tears and got up again. His dreams are far reaching. Today, the whole country is praising this force of his mind.
'Strong Man of India'. Sudhir is called by this name in the athletic circles. He received this title after winning the 17th Senior and 12th Junior National Para Powerlifting Championships in 2018.
.